Jon Gosselin, full name Jonathan Keith Gosselin, of TLC reality tv show Jon & Kate Plus 8, reportedly cheated his wife Kate Irene Gosselin, and eight children (twins+sextuplets) by partying with young ladies from a college in February.
Picture above posted by ecctv on Ohnotheydidnt.livejournal.com is what was believed the two girls Jon Gosselin partied.Star Magazine is claiming Jon Gosselin "turned up uninvited at a Feb. 6 party thrown by Juniata College seniors Erin Albert and Mariel Little — and ended up playing the drinking game beer pong with members of the women's volleyball team!" Jon Gosselin was said to have been very cozy with some of those young women on those functions. Below are the counts of two witness:
"He [Jon Gosselin] was acting like a drunk, girl-chasing frat boy," one team member tells Star. "It really disturbed me. On the show he is so nice, but here, he was acting like an idiot."

The following night he ended up at Memories Sports Bar & Grill. "He was dirty dancing with several girls from the volleyball team, making out, kissing them on their necks and mouths," says a witness in the bar.

"He was all over one girl, a long-haired blonde who's nearly 6 feet tall. He left with several of the girls, including her."
Oh, OMG! I'm wondering how would Kate Irene Gosselin react to her husband if Star's allegation turned out true.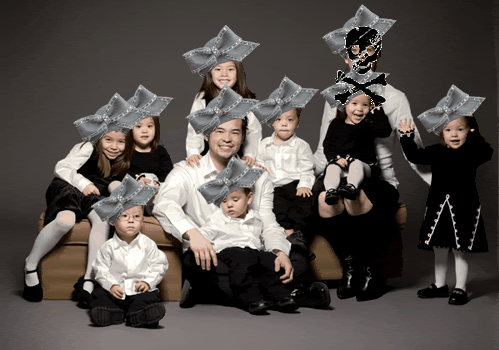 Jonathan Keith, Kate Irene Gosselin and their eight children (Photobucket.com)
Update: Jon Gosselin reportedly was also overheard saying "We might be getting a divorce. Hmm. If this is true, come the custody battle, there certainly will be enough kids to go around." But Gosselin denied his marriage to wife Kate Irene was on rocks, a statement through his rep read:
"It is certainly hurtful for people to spread rumors and lies about us. It certainly makes me reluctant to live my life like the average person would. This has made it very clear that the simplest innocent gesture -— such as taking a picture with a fan, can be taken out of context. As you can see on the show, I am not perfect, but I am a part of a loving family and couple."
Update: Jon Gosselin told to OK! magazine: I never cheated on Kate:
Jon & Kate Plus 8 star Jon Gosselin says he has always been faithful to his wife Kate and they are still together despite continued speculation about the status of their marriage.

"This struggle has definitely put some tension in our marriage," the Jon and Kate Plus 8 star told Ladies Home Journal in the magazine's May issue, according to OK Weekly. "But I never cheated on Kate. Kate and I are together."
Update: The rumored Jon Gosselin cheating wife party was parodied in a spoof video posted on Youtube. The following pic is a screenprint from that viral video.

Picture: Screenprint from Spoofed Jon Gosselin Cheating Wife Party Video
Update: John Gosselin was caught "cheating" wife Kate Gosselin with another woman, who was identified on May 5 as Deanna Hummel, a 23-year-old third grade school teacher.

John Gosselin Deanna Hummel Picture. After Hummel's identity was exposed, a man who claimed her former boyfriend said they had a homemade video. He even set up a website namely DeannaHumme.com to sell the footage.
Jon Gosselin, had first been photographed leaving a club at 2 a.m together with Deanna whom he called "babe" on April 18.
Seven days later, the two were caught togeter again, sunbathing in his family's front lawn while his wife Kate was traveling on April 26.
But before this, Jon was filmed sneaking out of Deanna Hummel's home at 7:30 a.m. on March 13, watch video below:
On May 6, Deanna Hummel denied she had a fling with John Gosselin. The same day Mr. Gosselin said in a statement the allegations that he had affairs with Deanna Hummel were false and he did not cheat on wife Kate:
These allegations are false and just plain hurtful. As I adjust to the attention that comes from being in the public eye, I need to be more careful and aware of who I am associating with and where I am spending my time. But the bottom line is, I did not cheat on Kate.

" I am sorry for putting my family in this awkward position, given some poor decisions and bad judgments I've made recently."

"I am working through this difficult time with my family, My family is my top priority."
Kate Gosselin, appeared on May 7′s Today Show with Meredith Vieira. Kate should have promoted her new book Eight Little Faces, but she spent most of time focusing with Vieira on the alleged Jon Gosselin Deanna Hummel affairs to defend her husband.

Kate Gosselin Today Show Video
Update: Reversing her early tones, Katie Irene Gosselin confessed she was not happy with Johnathan "Jon" Gosselin due to Deanna Hummel. Later Kate again admitted she and Jon Gosselin might be split up.
Update: Kate and Jon Gosselin split (divorce) sounds eminent, as could be sensed from May 25′s Jon and Kate Plus 8 Season 5 Episode 1: Turning 5 & The Future. From Us Weekly
Jon and Kate Gosselin don't appear on camera at the same time until 45 minutes into tonight's premiere of Jon & Kate Plus 8.

Kate — who shoots majority of her testimonial scenes solo (the couple usually appears as a pair) — admits she and Jon may not be together for much longer.

"I am thinking this possibly could be our last family picture together," she says of a photo taken at the sextuplets' fifth birthday party. "I don't know…parents of multiples have, like, triple the divorce rate, and I was thinking we were gonna beat that. I don't know if I can say that anymore. Very swiftly, we turned into two different people, and that's just hard. I've tried for six months to figure out what the problem is, or remedy the problem. It's so complicated."